"Generations Radio"

with

"Kevin Swanson"
Miss USA in Combat Boots - Raising Daughters for Combat and Beauty Pageants
Monday, June 13, 2016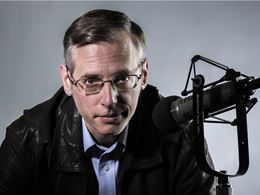 The Winner in the Miss USA Beauty Pageant is pushing for more women in combat, and a homosexual leads the U.S. Army for the first in history. We take another look at the biblical vision for womanhood found in 1 Peter 3 and 1 Timothy 2. Is this really captured by the Miss USA beauty pageant in combat boots? Shall we raise our daughters for combat and beauty pageants? This program includes: 1. The World View in 5 Minutes with Adam McManus (Worst Mass Shooting in U.S. History, Christian Singer Killed in Orlando, Hillary Clinton Commits to Making Planned Parenthood Strong Again) 2. Generations with Kevin Swanson
President Declares Gay Pride Month - In the Year of our Lord 2016
-
Friday, June 10, 2016
The official proclamation for gay pride month puts it in June in the Year of our Lord, 2016. Is this the ultimate in Christian blasphemy, or is it a submission to the Lordship of Jesus Christ? We also analyze the President's use of the golden rule to justify his forceful policies on transgendered bathrooms. We contrast the gay pride celebrations with the Continental Congress calls for prayer, fasting, and repentance in October of 1780. What a heart-stopping contrast! You don't want to miss this eye-opening view of God's sovereignty over nations.
This program includes:
1. The World View in 5 Minutes with Adam McManus (President Obama Endorses Hillary Clinton, United Nations Attacks Ireland's Position on Abortion, Donald Trump Involved in 3,500 Lawsuits)
2. Generations with Kevin Swanson
Euphoria Over Hillary Clinton - The Next Messiah - Why Democrats are Happier Than Republicans
-
Thursday, June 9, 2016
As for My people, children are their oppressors, and women rule over them. Hillary Clinton has clinched the Democrat nomination, marking a first for women in the history of this country. There is euphoria in Mudville tonight. Democrats are much more optimistic about the future of the nation than the Republicans, and here is why. As the Democrats look at it. . . "We have homosexuality. We have abortion. We have a National Debt that is beyond anything we've seen. We have women and children leading the nation. What can possibly go wrong?" We take a moment and look at the difference between Ahab and Jezebel, and find some lessons for the present malaise.
This program includes:
1. The World View in 5 Minutes with Adam McManus (Transgender Bathroom Mandates Heading to Supreme Court, UCLA Christian Professor Shot to Death, Floods in Texas Set Christians in Action)
2. Generations with Kevin Swanson
The Medical World is Pro-Abortion - Christian Alternatives in Goshen
-
Wednesday, June 8, 2016
The American Medical Association, the public Medical Colleges, and the Midwifery Colleges are pro-abortion, pro-abortifacients, and anti-Christian. With the increasingly socialist programs, forced abortion and forced infanticide may be around the corner for many of the Western nations. On this edition of the program, we encourage alternatives to the pro-abortion medical industry.
This program includes:
1. The World View in 5 Minutes with Adam McManus (Gun Sales Breaking New Records in USA, Clinton Claims Presidential Nomination, Scientist Finally Admits There Must be a God)
2. Generations with Kevin Swanson
Social Security Benefits to Drop 29% in 2029 - Half of Widows Entirely Dependent
-
Tuesday, June 7, 2016
The Congressional Budget Office is planning a 29% cut in Social Security benefits in 2029. That's best case, assuming a robust enough economy to sustain that. There are 50 million retirees today, and there will be 80 million retirees in 2029. Right now is a really good time to work a plan B. We interview Todd Strawser, Director of Christian Family Eldercare, and Ben Perry, an architect on preparations to care for the widow in the family and the church.
This program includes:
1. The World View in 5 Minutes with Adam McManus (Days of Noah Returning to the Earth per Billy Graham, Miss USA Pushes for Women in Combat Boots, Norwegian Family Re-united After Government Stole Kids)
2. Generations with Kevin Swanson
Bono and U2 Epitomize Post Christian Culture - COEXIST
-
Monday, June 6, 2016
Surprisingly, many "Christians" claim U2 and Bono as their own. U2 has captured more Grammy Awards than any other band, and they epitomize a post-Christian age. We review the U2 worldview, the huge support Bono has lent to the homosexual "mirage" thing, and the music they have produced. These are the cultural leaders, much more powerful than politicians these days. Get to know the influencers of the day.
This program includes:
1. The World View in 5 Minutes with Adam McManus (Obama Appeals to the Bible for Transgenders, Louisiana Moves to Ban Down Syndrome Baby Abortions, 7-Year Old in Trouble for Passing out Bible Verses)
2. Generations with Kevin Swanson
Trans-gendered, Trans-specied, and Autonomy - Are "Gays" Born that Way?
-
Friday, June 3, 2016
Why the enthusiasm for transgenderism at the top offices in the country? Now, top flight magazines in this country are more or less promoting trans-specism — guys turning themselves into goats. We discuss the root heart problem in the trans-gendered crowd. Then, we answer the loaded question — Are homosexuals born that way? Are people born with certain specific sinful proclivities? What can be done with sinful desires and inclinations?
This program includes:
1. The World View in 5 Minutes with Adam McManus (Canada Parliament Passes Suicide Law, Global Slavery Index on the Rise, Rock Star Prince Died of Drug Overdose)
2. Generations with Kevin Swanson
Killing Gorillas and Human Babies - What's Worth More?
-
Thursday, June 2, 2016
What is worth more in our society today? Haramba the gorilla or a three year old child or 125,000 unborn babies killed every day? Which makes it to the front page of the newspaper? Some states are becoming more aggressive in their opposition to Roe. v. Wade, including Oklahoma and Texas. Oklahoma's Governor, Mary Fallan blinked. The Texas Republican Party platform is challenging the Feds on this one.
This program includes:
1. The World View in 5 Minutes with Adam McManus (The Gospel is Heard in North Korea, Homosexual Sin Increased 2 Fold Since 1990, Bernie Sanders Closing in on Hillary Clinton in CA)
2. Generations with Kevin Swanson
Hiroshima, Scorched Earth, and Nuclear Warfare - Why We Don't Kill Women and Children in War
-
Wednesday, June 1, 2016
President Obama visits the Hiroshima war memorial, and calls for a moral evolution. We contrast three worldviews here: the Democrat worldview, the Republican worldview, and our worldview. We dust off the old "just war" theory from Western Christian history and go after the scorched earth approach to warfare that got its start with. . . you guessed it . . .William Tecumseh Sherman. The general had choice words for the blacks, and is well known for encouraging the extermination of the Plains Indians. If God's law provides anything, it provides a definition between good and evil. How 'bout we resurrect this in our day?
This program includes:
1. The World View in 5 Minutes with Adam McManus (Glen Beck Suspended from SiriusXM, Christianity Growing in Saudi Arabia, Taliban Kidnaps 200 People in Afghanistan)
2. Generations with Kevin Swanson
Worldviews of Captain America, Civil War - Super Heroes Dominate the Box Office
-
Tuesday, May 31, 2016
Captain America, X-Men, Dead Pool, and the Super Heroes are dominating the Box Office in 2016. But. . .why is that? What is it about super heroes and extreme fantasy that attacks the modern man? There seems to be less and less congruence between reality and the fantasy preferred by the worldwide market for film. Worldviews will ride under the surface, and hardly one in a hundred will self-consciously realize what they are watching. That's what makes this pretty dangerous for Christian families. Here we take apart Captain America - Civil War, ripping out the concrete and identifying the footers undergirding these stories. We point out what the other movie reviewers will miss - the determinsim-indeterminism tension, the post-modern rejection of reality, and the horns of the dilemma offered between anarchy and tyranny.
This program includes:
1. The World View in 5 Minutes with Adam McManus (Libertarian Candidate for President is Pro-Abortion, Finding Nemo II Features Lesbians, Texas Republicans Aim to Ban Abortion)
2. Generations with Kevin Swanson