"From the MLJ Archive"

with

"Dr. Martyn Lloyd-Jones"
Slaves of Christ
Sunday, June 12, 2016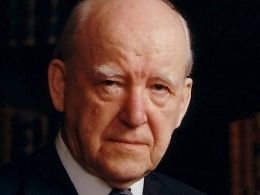 Ephesians 6:14 - Slaves of sin; the Christian delivered to be the slave of righteousness; the bond-slave of Jesus Christ; under the reign of grace; standing in the armour of God.
Looking Unto Jesus
-
Sunday, June 5, 2016
Ephesians 6:14 - Looking unto Jesus'; the centrality of the Cross; the purpose of the life of Christ; the Christian's life hid in Christ.
Resisting the Devil
-
Sunday, May 29, 2016
Ephesians 6:14 - A false doctrine; the observance of Lent discussed; the importance of realising the old man is dead; the 'old man' explained; resisting the devil.
Citizens of Heaven
-
Sunday, May 22, 2016
Ephesians 6:14 - Citizens of heaven; the importance of godliness; the error of modern attitudes of moral teaching; the relevance of Scripture today; the devil's favourite way of lowering our resistance : condemnation.
Putting on the Breastplate
-
Sunday, May 15, 2016
Ephesians 6:14 - Protection against the accusations of the devil; practical advice; when a Christian falls into sin; the security of the Christian in Christ Jesus; accusations at the time of death.
Righteousness of God by Faith
-
Sunday, May 8, 2016
Ephesians 6:14 - Feelings and the Christian experience; the danger of putting the subjective before the objective; the place of experiences; spiritual depression.
The Breastplate of Righteousness
-
Sunday, May 1, 2016
Ephesians 6:14 - Gird up the loins of your mind; the breastplate examined; the righteousness of God which is by faith; salvation by imputed righteousness; imparted righteousness.
Girded with Truth
-
Sunday, April 24, 2016
Ephesians 6:14 - The danger of an only intellectual understanding of the truth; putting on the girdle of truth; the importance of teaching in the Church; honesty with respect to the truth; the need to fight for the truth.
The Truth Revealed in Scripture
-
Sunday, April 17, 2016
Ephesians 6:14 - 'The truth' defined; false religion and the importance of truth; the doctrine conveyed through the Scripture; the purpose of the Gospels; the Epistles; a synopsis of Christian doctrine; fighting the wiles of the devil.
The Faith of the Gospel
-
Sunday, April 10, 2016
Ephesians 6:14 - The problems of the modern church : pride of intellect and a spirit of fear; the error of some modern teachings about the Bible; existentialism examined; a truth that may be known and understood; called to defend the Gospel.